Sun-smart products & safety solutions for families
For almost a decade, toddler tints have supplied thousands of Australian families with car window shades to protect their little ones from the sun's heat and glare. Featuring a range of colourful prints and patterns (which is why we're known as the funky car shade!), kids love viewing the world via our shades while parents love having full visibility when driving.


Committed to helping families get out and about, we're extending our range of sun-smart products and safety solutions so you can enjoy life beyond the car. From hats and sunglasses to safety handles, toddler tints has everything you need to safely head out and explore the world with your family.
SHOP NOW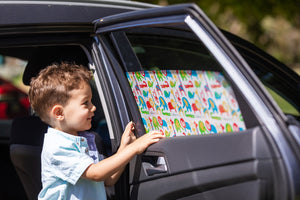 toddler tints
car window shades
The original and the best baby car shades! Offering UV protection, clear driver visibility, easy fit and installation plus durability, there is a good reason why our sun shades have been so popular with Aussie families since 2012.
shop tints
Protecting little ones since 2012
The brainchild of two mums who were frustrated with the lack of sun-safe options for kids when travelling in the car, toddler tints has protected families for nearly a decade. With more families heading out and about and living life outdoors, we now provide sun-smart products and safety solutions to make everyday life easier.
ABOUT US
Why parents love our car window shades
Sun Protection
Block heat, glare and protect your child from 65% of harmful UVA & UVB rays as rated by ARPSNA.
No blind spots
Driver visibility is not affected giving you a clear view of traffic - your kids can still see outside too.
Universal fit
Measuring 60cm by 100cm, it's easy to achieve a custom fit (with no gaps) for most car windows.
Full window function
Applied to the inside of the window, you can still put the window down when needed, providing full functionality.
Invisible to others
While kids love the funky patterns, our shades are completely invisible to others outside the car.
Long-lasting & durable
Applied inside the car, there's no fading, flapping or stretching. Plus, little hands can't pull them off.
★★★★★

"They are fantastic! I love that you can't see the design from the outside and that I can still put the window down".

Kel, B

Townsville, Australia
★★★★★

"These are AMAZING! I recomend them to everyone I know, I've also gifted them for so many baby showers".

Sarah, P

Adelaide, Australia
★★★★★

"LOVE that I can see when I'm reversing out of parking bays and changing lanes. I feel so much safer, thank you!"

Jess, M

Perth, Australia
★★★★★

"I was worried that my toddler wouldn't be able to see out the window but it's not an issue at all. Thanks for an amazing product".

Mia, N

Melbourne, Australia
★★★★★

"So many cute designs to choose from. My little girls loves their toddler tints".

Lucy, J

Byron Bay, Australia
Got a question? We have the answer!
We're ready to help your family safely explore the world with our
range of sun protection and safety products. If you have any questions,
let us know, so we can help you get out and about as a family.